Fourth Trimester Faves – Skin to Skin, Nursing, Babywearing & More
Nothing compares to those precious fourth trimester days with your new baby – getting to know each other, learning to pick up on their cues and falling head over heels in love!
Here are our top must-haves for that special post-pregnancy phase…
Browse Skin to Skin Tops
1. The Skin to Skin Top
The benefits of bonding skin to skin with your new baby simply can't be overstated. From the moment they arrive, a simple skin to skin snuggle has the power to soothe, regulate their temperature & even boost your milk supply!
Our signature tops allow you to enjoy all the benefits of skin to skin while keeping your hands free!
Read more about the benefits of skin to skin
2. The 3 In 1 Babywearing Coat
Getting out & about with your new little one during the fourth trimester is so important, and babywearing is the perfect way to do it. A stroll around the park with your baby strapped on will help to boost your mood & ease you back into your active lifestyle.
Featuring an innovative zip-off pouch at the front, our 3 in 1 coats & hoodies are designed to provide a flexible fit through pregnancy, and then zip up over a baby carrier after baby is born.
Shop the Babywearing Collection
3. Post Pregnancy Support
When it comes to clothes, comfort & support are sure to be high on your priority list after welcoming baby.
Our Post Pregnancy Shaping Leggings provide the perfect level of 360° compression, ensuring optimised support for the fourth trimester. And for when you want to feel a little more put together, our Post Pregnancy Shaping Jeans do the same job!
4. Breastfeeding Basics
If you plan to nurse your little one, then a good supply of nursing bras & breastfeeding-friendly tops & vests is an absolute non-negotiable!
With a brand new baby in the picture, leaks & spills are a common occurrence, so when it comes to the basics, our motto is - more is more. That's why our most popular nursing bras & vests are available in handy twin packs.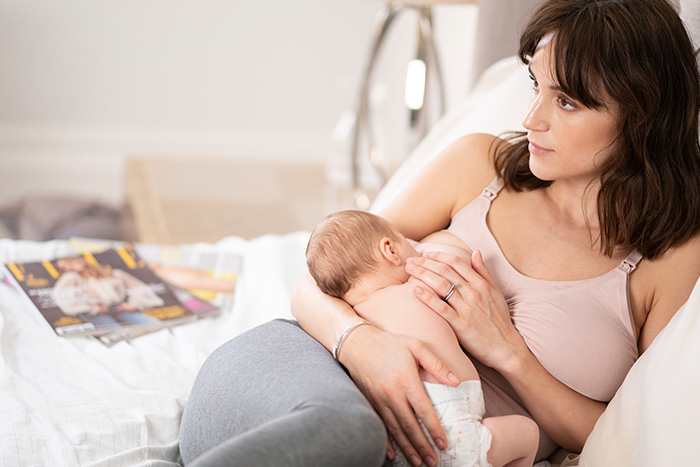 5. Nursing Shawl
And last but not least, there's nothing quite like being snuggled up with your little one in a knitted nursing shawl while you feed.
Our soft shawls are designed to keep you covered up in public & cosy at home.
Most importantly, enjoy this special time mama – the fourth trimester flies by & they grow so fast!